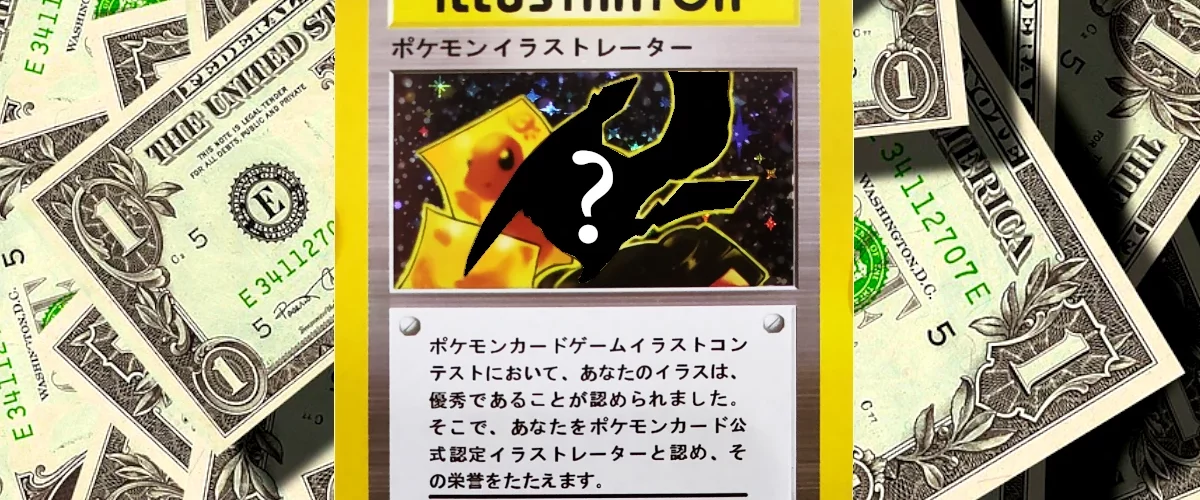 List of the 5 most expensive

 Pokemon cards 

Pokemon cards, which first appeared on the market in 1996, have gained enormous popularity around the world. It's not just a card game. Over time, for many people, collecting these cards has become a passion and even a form of investment. Some of the most rare copies can reach skyrocketing prices. The Pokemon Company initially issued them in cooperation with Wizards of The Coast, boosters contained 11 cards. Subsequently, the Trading Card Game series was issued by The Pokemon Company. In this article, we will take a look at the most expensive Pokemon cards and find out why they are so valuable.
Logan Paul and the most expensive Pokemon card worth more than $5,000,000
The owner of the most expensive Pokemon card ever is youtuber Logan Paul. When the Pikachu Illustrator PSA 10 card was sold in January 2021 (this means that the card is in perfect condition). The world's most expensive card has rekindled many people's desire to return to the old hobby. Pokemon TCG cards have been experiencing a real renaissance for some time.
The most expensive Pokémon cards:
1. Pikachu Illustrator card
The Pikachu Illustrator card is a true gem among Pokémon cards. Released only in Japan in 1998, it is one of the most unique and rare cards, with only 39 copies issued worldwide. The card was given to the winners of an illustrator contest for children. It is a promo card, also it could not be used TCG game. In early January 2021, a Pokemon card worth more than $5 million was sold to youtuber Logan Paul. He thus hit the Guinness Book of World Records for buying the most expensive Pokemon Trading Card Game card ever sold.
2. Charizard First Edition Shadowless Holo
Charizard is one of the most iconic Pokémon, and its first edition card (the "shadowless" version of the card, of course) is one of the most sought-after pieces by collectors. The "shadowless" edition means that the card does not have a shadow on the bottom right corner of the image, which is characteristic of the first edition. This version of Charizard may not usually be valuable. Rated by PSA go for over $1 million at pwcc auctions in 2022.
3.Blastoise First Edition Galaxy Star Holographic
Like Charizard, Blastoise is another popular Pokémon whose first edition card is in high demand. This card was created in 1999 and can be extremely valuable. In 2021, one copy was sold for 360,000 usd.
4. Lugia Neo Genesis First Edition Holographic
Lugia, dating back to the second generation of Pokémon, also has its own rare card, which fetches high prices on the collector's market. The Lugia Neo Genesis First Edition Holographic card was released in 2000. In early 2021, one copy of this card was sold for $129,000.
5. Mewtwo First Edition Shadowless Holographic
Mewtwo is another of the iconic Pokémon whose First Edition card is in high demand among collectors. In 2020, a Mewtwo First Edition card without the popular "shadow "was sold at auction for $30,000.
Pokemon TCG Promo Ishihara GX card
It's not just old Pokémon TCG cards that are gaining in value. The Ishihara GX promo card is worth a look. It depicts the president of The Pokemon Company.
What is the value of base set (shadowless) cards and what is their rarity
Go cards have many different variants, the best example here is Base Set – the card series is the oldest and had a long printing time. Cards can be 1st edition or shadowless. A card is rare if it meets one of these conditions, and in the case of these most valuable cards – both. High value is also guaranteed by having a rating, issued by a professional company. Due to their rarity, it is best to send them only to the most well-known grading companies (PSA, Beckett or SGC). If you have a box of such cards at home it is worth checking for these versions. We can have the equivalent of a good car in it!
The most expensive and rarest Pokemon cards – Summary.
The most expensive cards in the Pokemon series, which we have presented in this article, are rare and extreme cases. Their value is due to both uniqueness and sentimental value for Pokemon fans. With the passage of time and the increasing popularity of Pokemon as a brand, the cards not only maintain their value, but also become increasingly desirable to collectors and investors around the world.
It is worth noting that the value of specific pieces depends on a number of factors, such as their state of preservation, rarity and evaluation by an appraisal company. Therefore, before buying expensive cards, it is advisable to consult experts and research the market to avoid overpaying. As the collectible card market evolves, we can expect to see more price records and new rare cards becoming objects of desire for collectors. The passion for collecting Pokemon cards can not only be a fascinating hobby, but also an investment that can bring surprising returns over time.
For Pokemon fans and collectors, the pursuit of these unique cards is not only a financial investment, but also a hallmark of their passion and commitment to the Pokemon world. Often the value of these cards goes beyond the material aspect, becoming an important symbol for their owners. Whether you are a collector or a casual Pokemon lover, it is undeniable that these most expensive Pokemon cards are a fascinating part of modern pop culture.